Here we go:
Open Water
Now the idea behind this is freaky. going diving and then the boat leaves you in the middle of the ocean. What do you do? the fact that this is based on true stories in amazing. but does the movie live up to the idea.
I'm afraid not, and I think that is because it is TOO realistic.
first off the story... 2 people Susan (Blanchard Ryan) and Daniel (Daniel Travis) work hard in todays world. too busy to do anything so they decide to do a Club Med type of trip. Get away from it all. One vaca day they want to go diving. so they go on a ship of 20 or so people, a little mix up and they are left in the ocean. Drifting further and further way. Soon the sharks come and the desperation.
the movie is short (76 minutes) as you would expect. I mean what is there to tell? but the idea is still freaky. But it can get a tad bit boring as the only scenery is water. you do think about 'what would I do in that situation?' It's a good conversation starter and if i ever go diving i'm staying CLOSE to the boat! I was expecting a whole lot of suspense a la the blair Witch. not even close. Like i said, too realistic. Sharks do come...but they act like sharks do. you don't see much of them... just their fins and some underwater swimming.
I wouldn't waste my time in the theatre and it's an iffy rental. however Blanchard ryan is a hottie and she gets naked in the beginning...nice little body on her!
Pass on it!
Without a Paddle
when I first heard about this film I chalked it up as another dumb comedy that was a throw away on a distributors schedule. but then I saw the previews and i laughed... a lot. My wife did too and she said she wanted to see it and she never really wants to see anything but Harry Potter movies.
Wel lI did see it and it's DAMN funny.
It's a friendship movie.. i love those. It stars Seth Green, Mathew Lillard and Dax Shepard as three childhood friends now in their 30s each living a different life. when they get word that their friend has died in an accident they revist their past as kids. they find an old box that had some childhood memories in it (like a 3PO figure). this i loved cause it was all about the 80s! Greatest decade of al ltime. Well when they were kids they made a blood pact to all hunt for the treasure of DB Cooper. For those who do not know, DB cooper was a bank robber who made away with a ton of csh in the early 1900s. He was known to paracute from a plane into the Oregon mountains but was never heard or seen again. After looking into this box they notice the map has been completed and their is some extra reference materials in it. so now a road trip. what happens is a typical fish out of water ordeal. they got stuck in the mountains, etc. Man is it funny. Seth Green is this whimpy guy who is afraid of EVERYTHING! Dax is the tough, carefree dude. Lillard is the straight man to these two. burt Reynolds is also in this movie as a mountain man. Plays a great part and at first was like 'Wow, how the mighty have fallen' but you can tell he did this part for the fun of it. A pleasant surprise of a movie.
Cool poop!
DVD crapola
Taking Lives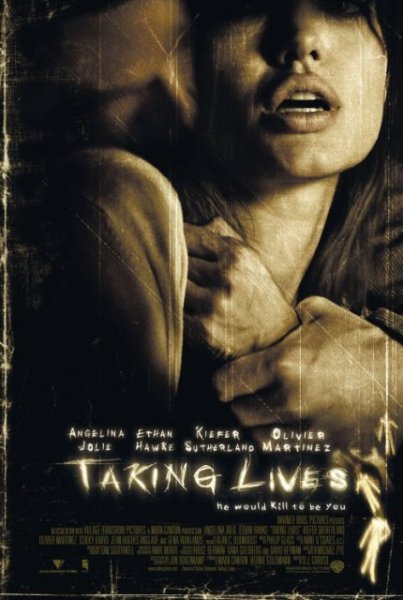 Angelina Jolie is Special Agent Illeana Scott who is called to montreal on a case. A dead body was found mutilated and she is an expert in this type of homicide. she gets INTO her job, to the point of laying where the body was found to putting up pictures of the dead bodyies all over her hotel room. It is soon learned that this is another victim of a serial killer who has been doing this for year. she decribes him as an hermt crab who takes one life and outlives it to take another, etc. Ethan Hawke plays a witness to this person killing a victim. He soon becomes a target and him and Jolie soon become an item. i'll leave it at that.
It's an engaging murder/mystery with an original idea (the hermit crab thing). In the end some things don't make sense when you think back... but over all it's a good rental. you get to see Jolie's boobs too... that is always a good thing.
A good rental.
Well this weekend I want to see Aliens Vs Predator finally. I think I will
'I will become the most powerful Jedi ever!'
'I'm the damn designer, bitches!'