Hey all, I'm working on a logo for an open source Sim City style game project called Metropolis. I've come up with a basic design I like, but I'm stuck on a few secondary things. I wanted to go for a slightly Art Deco look while still getting the "city" part in there; Here's the basic shape:
My main question is if I should add an "M" to the design, like this:
Beyond that, I'm not sure what to do about the color scheme; so far I'm liking either silver: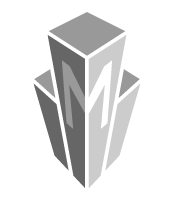 or gold:
or maybe even something a little more colorful:
What does everyone think? Thanks for your feedback!