Dear designers far and wide,
we are sculpture network, a non-profit organisation for sculpture enthusiasts – and we need your help. Every year in January, we meet in various places around the world to celebrate three-dimensional art. For next year's event, we would like to get a head-start and are looking for three-dimensional input for our campaign "New Perspectives".
This is our logo for the event along with a 3d model to get a rough idea of what we're looking for: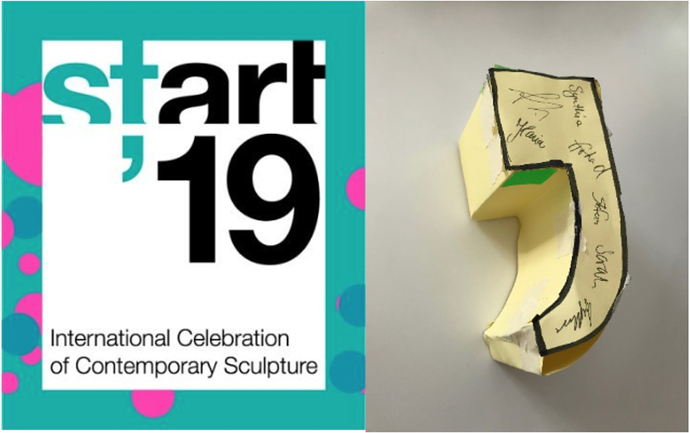 What we need: We would like a do-it-yourself craft template for a three-dimensional apostrophe that anyone can build from an A4 sheet (or two). Thanks to this cut-out sheet people should be able to craft their own apostrophe, put it into different contexts and share their pictures through the internet. We will offer this sheet as a download (for free, of course). What you see above is an unprofessional prototype we made ourselves. This is roughly what it should look like when people build their apostrophe with the template.
What we offer: The chosen project will be used for our PR-campaign from now until January 2019 – of course you will be credited. We reach around 25.000 people in various social networks, so this could be a real visibility boost for you. In addition, we offer 50€ prize money for the (1!) chosen project (sorry, we're a poor NGO and can't offer more).
About the campaign: Our motto for next year's event is "three-dimensional art and society". We would like to encourage people to rethink their perspectives and dare to step outside their comfort zone. We have chosen the apostrophe from our logo as an ambassador for that message. Since we have members all over the world, this should be a chance for everyone (member or not) to get in touch with sculpture and the way it is perceived in different regions of the world. The cut-out sheet project will be a part of the campaign all the way: in our call to action on our website, social media and newsletter as well as during the event itself.
Learn more: about the event: (Link removed)
Get in touch: If you have further questions or want to send us your submissions, write us on: . (Email removed)
Please send us your submissions until 13th August 2018!