2/22/22 … pretty cool date, today.
Yeah, it's the little things in life that excite me.
2.22
It's only 1/3 the number of the Beast.
I'm not worried


are?


Today is also my and Mrs. B's wedding anniversary. She's taking the whole 2/22/22 thing pretty seriously. I'm sure she'll have some little celebration planned for 2:22 pm today.
Happy anniversary. Is it your 22nd anniversary by any chance?
You know, I never can remember how many years it's been, so I needed to look it up. It's our 28th. I can hardly believe it's been that long.


Happy Anniversary to You and Mrs. B!!!



I'll never get over this: 022222 simply does not compute.
I take 220222 any time. Tomorrow will be 220223.
For file naming, I always use year-month-date.
I never can remember which goes first: the month or the day, so I typically don't write out dates that way. Besides, it differs from one part of the world to another anyway. More often than not, I'd just write Feb 22, '22.
For me, I always go from longer time period to short time period … so a year is longer than a month is longer than a day.
Happy Anniversary B, and Happy Twosday to you all!
Here's my screen capture of the big 2sday, never-"two"-be-repeated-in-my-lifetime 2/22/22 2:22 moment.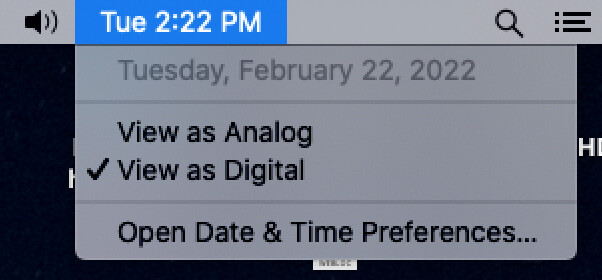 And on Twos'day no less