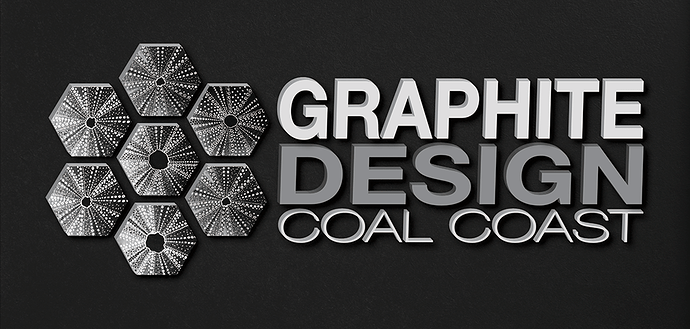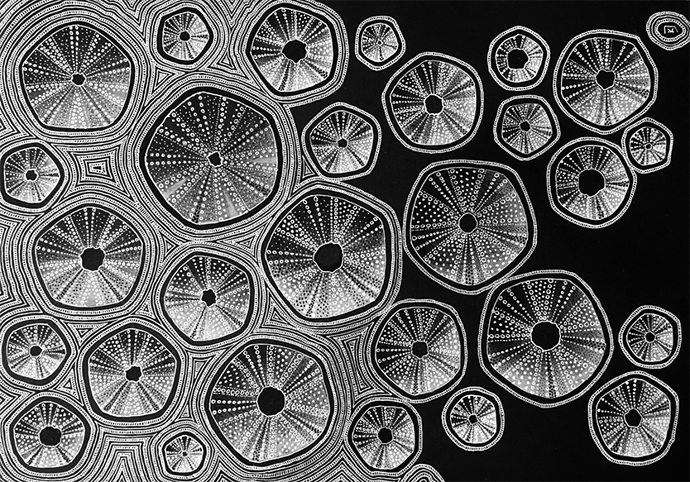 Greetings fellow graphic designers,
I am working on an assignment to produce a 2D / 3D design to be installed in a graphic design studio reception area to showcase the business and style.
My business is named GRAPHITE DESIGN COAL COAST. The primary focus is "Graphite" as the tool used in the first stage of any design and represents creative thinking process. Graphite is one of three forms of the element carbon one of the building block of life. Graphite has a layered 2D hexagonal structure compared to coal which a loose and diamond 3D tetrahedral structure. The location of the design studio is in the Coal Coast which is known for the coal mining of black diamonds, its stunning coastal tropical mountain environment and close knit active and creative community.
The logo design involves a group of hexagonals with a hand drawn texture from one of my art works and simple clean logo type. This is to be produced into a 3D sign with a super dark graphite laminated backing board and 3D plain coloured lettering and 3D digitally printed shapes.
I have chosen to place on of my artworks on the adjoining wall as a large digitally printed wallpaper mural. The work selected is title washed up - sea urchins which was hand drawn white ink drawing of sea urchins on black card. The hand drawn element provides the personal touch and represents my unique black and white line style. It also provides linkage to the coast environment where I work and live.
The texture and pattern of the urchins has been used in my logo which provides continutity between the wall art and business signage / collateral.
I am seeking constructive critique from design student peers and experience designers.
I am specifically interested in effectiveness of the design concept to represent the studio persona and aim attract local community small business clients from the professional, service and hospitallity sectors.
I am also interested in technical advice regarding production of the concept in 2D/3D form. Specifically how to prepare digital artwork for the signage company for large scale and 3D printing.
Thanks Kathy