It be talk like a pirate day!
Or it used to be in the good old days.


Wow, there's a blast from the past.
Oh dang … I completely forgot!

Shiver me timbers!
Aaarrhh I knew there be reason my peg leg was itching - Thank you Cap'n, I'll be making an entry in the Ship's Log so it don't sneak up on me again Aaaarhhh.
What would International Talk Like a Graphic Designer Day sound like?
This client is driving me insane!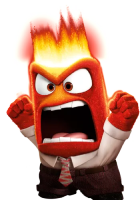 There was a parody music video about graphic designers. This goes back maybe 15 or 20 years at this point. It was something along the lines of graphic design life or graphic design thug life. The guy singing was singing about perfectly letterspaced Mrs. Eaves, rolling in his Mini Cooper, have PMS 186 running in his veins. Does this ring a bell with anyone? I'd love to see it again. I can picture it in my mind, but I can't find it on YT.
I have a vague memory … I think

I can't find anything even close. I've tried searching for your clues and all that comes up is if I want to buy a mini cooper lmao

Maybe someone else will remember

Check out my google skillz
You found it!!!

YES! Thank you. Impressive google skillz, indeed. I tried a bunch of different searches and couldn't come up with anything. Super glad you found it — it's a fun watch. I doubt most designers today would get a fraction of the references.
I can't make it pop any more than this… Unless I add some jazz!!!
Sorry, I made it about 20 seconds into that video and clicked out of it. Creepy.
I got halfway. Hate rap.
Seems to be slightly ironic using Rosewood for titles.
Apparently, I am the only design gangsta in these parts.

Be of goode cheer, my Lords and Ladies, I would entrust you to my sleepy bosom.