Connections
Puzzle #73





















Wordle 795 5/6

























Woo Hoo!!
This never happens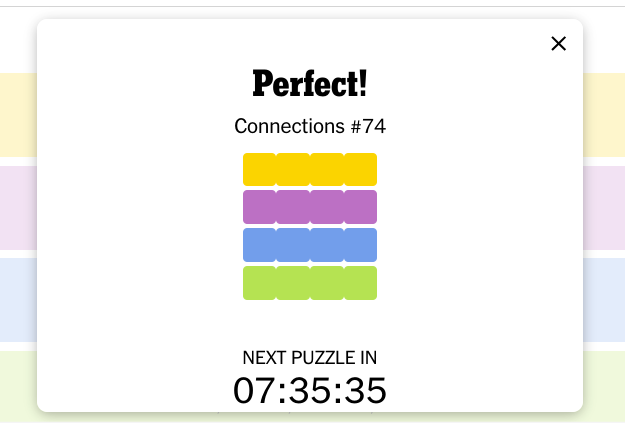 Connections
Puzzle #74

















Connections
Puzzle #77


















Wordle 799 4/6


























Word Hurdle 1174 4/6
























Connections
Puzzle #80


















Wordle 802 4/6




















I went into that first one super confident!
Wrong! LOL

Connections
Puzzle #82

























Hi guys,
I'm new here

I thought i'd drop by to say i've been developing a new word game these past few months called LetterStreak. Inspired by Wordle, it's a daly word game where the aim of the game is to fill in the missing letters for words. Similar to hangman but on steroids! It's a timed game where you have 60s to complete as many words as possible. For every word you get correct, 5s seconds of time is added. You also earn stars which you can use to reveal letters if you get stuck. It also has leaderboards and a ranking system so you can compete against players across the world!
It's still in early development and you can play by Googling letterstreak! Any feedback is appreciated. If you like Wordle, you should love this!
Wordle 805 5/6

























Connections
Puzzle #83


















Connections
Puzzle #84

















Connections
Puzzle #85

























Connections
Puzzle #89

















Wordle 812 5/6

























Connections
Puzzle #95

















Connections
Puzzle #99































Wordle 821 5/6































Connections
Puzzle #107