I have a boardgame map in Illustrator that I printed to PDF using Adobe's print driver. The intent is to print the map on two A1 pages with 5mm bleed and 15mm overlap.
The document exported fine, and when I open up the PDF and look under Document Properties, it says the document is 841x594mm (ie, A1 size) and has two pages. Sounds good.
However, the print service is telling us that the document is 832.5 x 594.1 mm, and they'd like us to re-send with the 841x594 dimensions.
So I'm confused. One reason I like (and pay for) Adobe's print driver is that it's supposed to take care of these things for me. I tell it the paper size I want, give it my desired bleeds, tell it to set the scaling to "Tile Full Pages" and then just manually adjust the scaling until the preview fits on the number of pages I want (see below):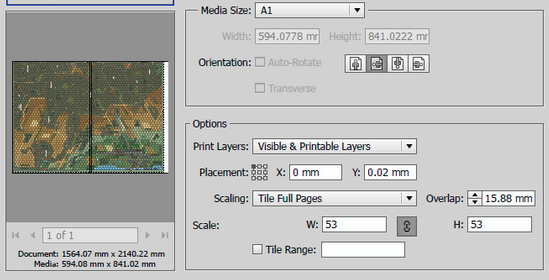 So, am I misunderstanding things here? Or perhaps is the printer misunderstanding things here?
FWIW, I can get to their height dimension (832.5mm) by taking my document height, multiplying by the 53% scaling factor you see above, then adding twice the document bleed. But working backwards from that logic means I should be able to get the desired height (841mm) by scaling by 53.544%, and if I do that, Adobe's print driver wants to expand the document to fit on 2x2 A1 pages instead of the 1x2 that I want.
So. Any clues here?
Thanks
Tom