No candy here. Never had a single Trick or Treater in the decade+ I've been here lol

(that's ok too)

Great Hero btw … I haven't been over there in a while. Might have to go check it out again.
Almost done. 8pm is the cut off. I'm thinking the next kid gets the rest of the bowl dumped in their bag. If there is one. Usually a group of high-schoolers comes just at 8pm. HeroForge is much more fun than solitaire

Yup right on schedule, LOL! Got rid of it all to 5 high-schoolers. I love being awesome.

We live in a fairly good sized neighborhood in the middle of the 'burbs. So far, we've had one group of 6 or 7 young kids. When our kids were young, we'd get 70 or 80 kids. I suppose some of it is the way neighborhoods change over time and some of it is the proliferation of trunk or treats.
It's my trick … and my treat. A Manhattan made with Four Roses Small Batch and a Luxardo cherry. None of the cheap cherries over here.

They are a luxury in which I'll indulge.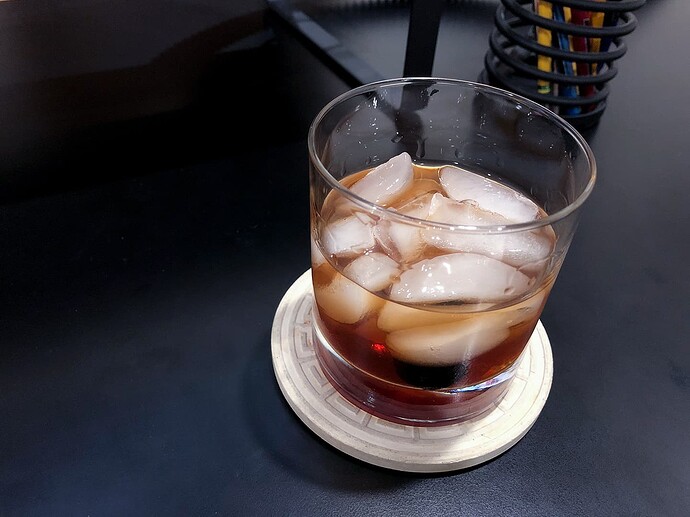 I only remember one trick-or-treater in the 20 years we've been at our house. There aren't many children in the neighborhood. Mrs. B buys a bag of candy every year just in case, but we always end up eating it ourselves.
As a kid in rural Utah, Halloween was a major event, and we'd all end up with a massive haul of candy. Here and now, trick-or-treat is mostly a non-event, with the local churches and civic organizations putting together various activities for the kids.
Yeah, one of the churches in town started a Trunk or Treat last year. Also last year we had a lot of parents not wanting anything with peanuts. I live on a dead end road that used to be kinda popular as a drop off. Kids would go around while parents hung out at their cars. We had maybe 40 kids. Used to be close to 100.
This is what I did with the littles for years … I would drive them all over to the really decorated houses. I would follow close behind at a snails pace LOL

And they could take a break and warm up inside on those really cold Halloweens

Now there are trunk or treat meet-ups all over and the local EMS and several Churches have events.
Back when there were a lot more young kids in the neighborhood than there are now, Halloween was as much a party for the parents as it was for the kids. Parents who were escorting their kids would pull a wagon with coolers stocked with adult beverages, there were groups of adults at certain houses hanging out in the driveway with food and beverages, everyone knew everyone. It was a lot of fun.
That sounds so nice

We didn't participate this year. It's not a big thing in the UK and when I were a lad there was none of this trick or treating. Still feeling guilty, especially as we just moved into a new street with new neighbours and their kids.