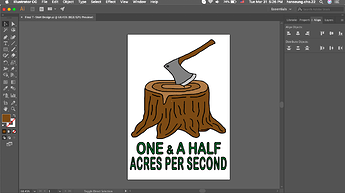 Hello, I am looking to receive feedback/critique for this t-shirt design. This is a school project, and I am a beginner in Adobe Illustrator. Please take this into consideration when critiquing.

Please try to critique this t-shirt design based on the following criteria: the effectiveness of the t-shirt in terms of being able to achieve its goal (of raising awareness for deforestation), overall quality of the design (such as color, formatting, layout), and anything else you would wish to add. A few sentences of your opinion would be greatly appreciated!
Thanks for the help!