I found this dark blue background with spots/stars. How do I recreate this?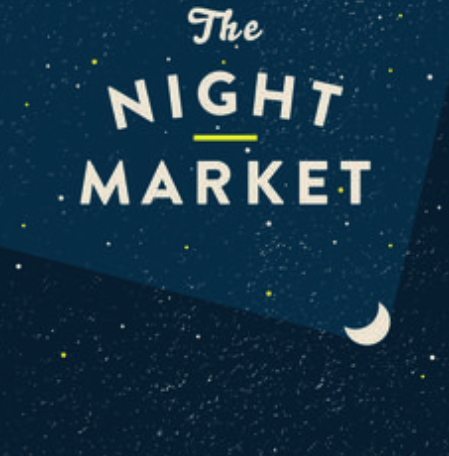 My best bet would be that the work was done in Photoshop.
– Base layer of dark blue.
– Second layer of slightly lighter blue.
– Grunge / dirt / dust layer used for fainter / farther away stars.
– Since the larger stars appear to be placed more strategically, they were probably created with a soft brush.
Step 1 - Log in to your favorite stock photo website
Step 2 - Perform search for "star background"
Step 3 - Select your favorite star background
Step 4 - It's Miller-time, babe!
Easy in Illustrator…
Take a screenshot of that image, paste it in Illustrator.
Create a square, then another square, rotate top square to match. Eye drop the color from the screenshot.
Grunge textures (vector) are a dime a dozen! Google it.
Redraw the moon and add a few dots (yellow and white) to represent the stars.
Can be done in about 15 min in illustrator.
Make sure your color is set to White for Grunge and Soft Brush (that's something I sometimes forget before I bang my hand palm to my head accompanied by the word "DUH!" spoken under my breath)