On one of the discord servers I hang out, new logins are introduced by the software as
"username just arrived. We hope you brought pizza!"
And i hope they do!






… and National Beer Day is 6th August, and National Liquor Day is 16th October. Then again, every day is Personal Beer and Liquor Day!
I must have had a premonition!
I made pizza last night and that's what is for lunch today

Topped this one with bacon, onions, mushroom, red pepper and garlic. I love homemade pizza
… and the crust isn't burnt … just a shadow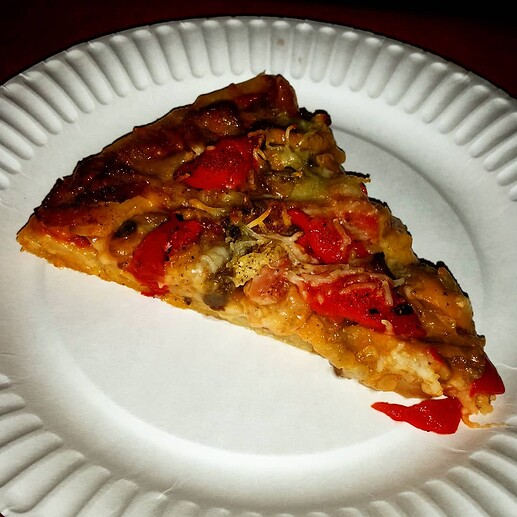 Yes! Here's a "day" I can get behind.
Yep, me, too. Homemade grilled pizzas are my favorite. Unfortunately, it's far too cold to fire up the grill this evening.
I don't even have a grill, so I've never tried that … but it sounds delicious too!
#ApartmentLife
Well, I don't want to bum you out, but they are delicious. We've been grilling pizzas for a bit and have fine tuned a technique that works for us. We put a pizza stone on the grill and give it plenty of time to preheat and get super hot. We'll use a mild, fruity wood to add a little smoke flavor (usually apple or cherry). The dough goes on the stone for about 2 minutes, then it gets flipped and topped and that bakes for just another 3 minutes or so. The crust is delicious and crispy with a little hint of smoke (I'd be happy eating the crust by itself), and the toppings are really fresh since they only cook for a few minutes — just long enough to heat up and melt the cheese. I'll have to post some photos next time we do this.
#ComeOnSpring
Yes! post some pics

It really does sound awesome!
Yes bbq pizza is wonderful.
I make pizza bases with yoghurt and plain flour.
Delish!!!
recipe? That sounds very interesting too!

I use 0% fat plain yoghurt, or Greek Yoghurt (or Greek Style Yoghurt). You can use plain flour with baking soda, or self-raising flour.
Sometimes, I will use plain flour, and then sprinkle the countertop with self-raising flour.
Other than that - just add and mix to your liking.
I don't really weigh anything, just kinda go with it - typical bloke cooking right?
Does it have to settle and raise at all or do you just spread it out and use?
I'll have to give this a try

No - just knead it for about 5-10 minutes.
Then roll it out or flatten it out.
cook it on a pan to firm it up a bit.
Add your sauce/cheeses and toppings.
Pop it in the oven for about 10-12 minutes.
Awesome! Thank you

Gonna give this a whirl

I'd imagine if you don't want gluten - then use plain flour.
It's up to you how think you want the base - I usually go for thin.
Plus - another thing you can do with this recipe.
Cut the 'dough' into triangles.
Sprinkle with your favourite chip flavour (like Chilli Flakes)
-My fav is chilli flakes and powder cheese
Cook in the oven until golden crispy.
You have nachos!