Yo -
So my last post got me thinking and rethinking about my portfolio

Thanks again for all the pointers. I was wondering are Portfolio Mailers still relevant? For a class last summer, we made mini portfolios (design up to the student), did not show them for review, and mailed them to our professor to open on the final day of class. In summary, the point was like I guess a cold call to someone you would want to work for who may or may not be hiring at the moment; you know a visual introduction rather than just sending a resume.
My design was based on a swatch I once had of different gels/filters for a light kit (in a different life I was a film major). It was printed on a heavy glossy paper stock, double sounded; the stock had a nice weight but it was still easy to fan out and the clasp could be easily removed if you wanted to take it apart to examine, and if you seriously hated it, well hey you have some new coasters. The total was between $40-50 and printed at big box store, FedEx Kinkos; I tried Staples totally horrible and I didn't have time to find a local print shop. As we all know school is way different than life, esp. in the world of Covid; is this a tactic still worth it, maybe just wait for an interview to leave one as a calling card, or just stay electronic with my portfolio website?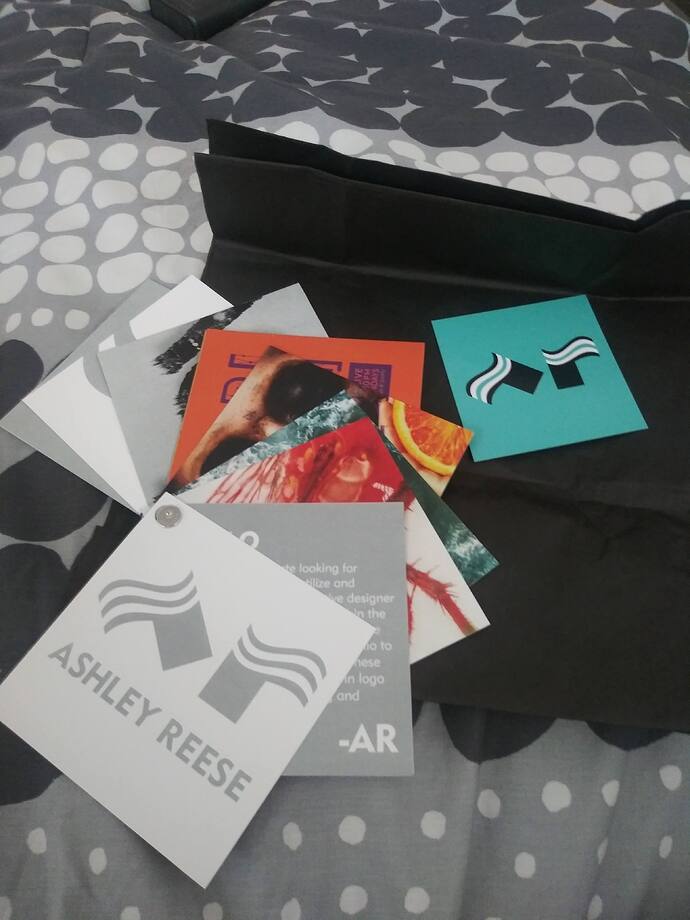 (yeah blurry it was a snapshot text I sent to a friend, I only made one physical copy which I don't have anymore and there were about 10 or so cards, I think 5/6 pieces, a summary, "cover", business card)
If I did do this again, the pieces would be different, but I think the design would still be the same, maybe the backs of the cards would have a short description rather than just be a different close-up/portion of the selected piece.
-ar