Hello you wonderful graphic designer colleagues,
Today I am looking for your help.
I want to apply a logo very small (13mm) on (coffee) machines without leaving an edge of e.g. a transparent foil around the logo.
If you can think of a supplier or process that could work for this task, that would be great.
My customer repairs and trades coffee machines and I would like him to stick his logo on them in silver and black. Unfortunately, conventional methods such as foil cuts or transparent foils are too imprecise or too unsightly in our case.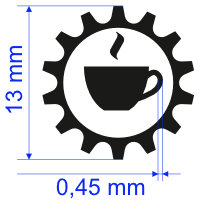 Unfortunately, it is too time-consuming to take the machine parts to the pad printer 30 minutes away by car each time.
I was thinking of gel doming stickers but these are limited to silver backgrounds which clash with the silver materials of the machines and these types of stickers would also probably be too intrusive for the end users and the logo would often not sit centrally in the sticker at that size. Inside the coffee machine we have a smart service sticker made of aluminium foil with the company name, logo, address and everything, but it would be too obtrusive on the front of the machine.
For some time now, I have been looking for a method to replace cutting plots for die-cut stickers on carrier foil when these fail due to the smallness and fineness of the design. I have already come across the possibility of doing this with a handheld device for pad printing. However, at several thousand euros, these are too expensive for a single one of my customers and I had no intention of getting into the printing service business. I also don't know enough about the quality.
Stamp and ink processes I saw were too inaccurate.
The internet says there are also laser-cut plots, but I can't find any service providers, only laser manufacturers.
Thanks
(I couldn't find a better category than General, maybe Printing&Prepress - admins feel free to move this to a better category, please excuse my non native english)