Hello! I've been lurking for a while and have finally decided to step out of the shadows to receive some feedback. I've appreciated this resource and the core members

Thank you for all your efforts!
I come to graphic design through the esports community and have volunteered my time over the past couple of years to create things for my online team. Until then I've only had experience within photoshop for photography. Over the last few months I have been learning Illustrator as well, what a beast of a program!
Recently I was approached by another team with the request to create a logo for them. They are in essence 2 teams forming into one to create a pro level team. They want to incorporate both visual identities of the current teams while giving the new team its own image, although he said I could also have creative license. My audience is typically male age 18-34, the average being 21.
These are the parent logos: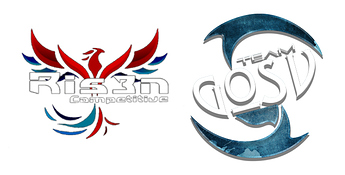 These are the two logos I've come up with if you wouldn't mind taking a look and providing feedback. Thanks!