Wordle 459 3/6





















Word Hurdle 492 5/6






























Wordle 460 5/6

























Word Hurdle 494 2/6 #wordhurdle













Phrazle 314: 3/6














































Wordle 460 3/6





















Word Hurdle 494 5/6




































Phrazle 314: 4/6




























































Wordle 461 3/6















Word Hurdle 495 5/6 #wordhurdle































Phrazle 315: 3/6











































Wordle 461 3/6





















Word Hurdle 496 4/6






























Phrazle 316: 3/6































































Wordle 463 4/6


























Word Hurdle 500 4/6






























Phrazle 320: 3/6













































Wordle 464 3/6















Word Hurdle 501 3/6 #wordhurdle



















NOT A SPOILER - from September 2nd. Anyone else here find Wordle too easy that they start throwing the most ridiculous words at it to up the challenge?

Turns out that method gets me a win in 3 tries almost every time, and sometimes even 2.
Word #2 seems properly placed over Word #3…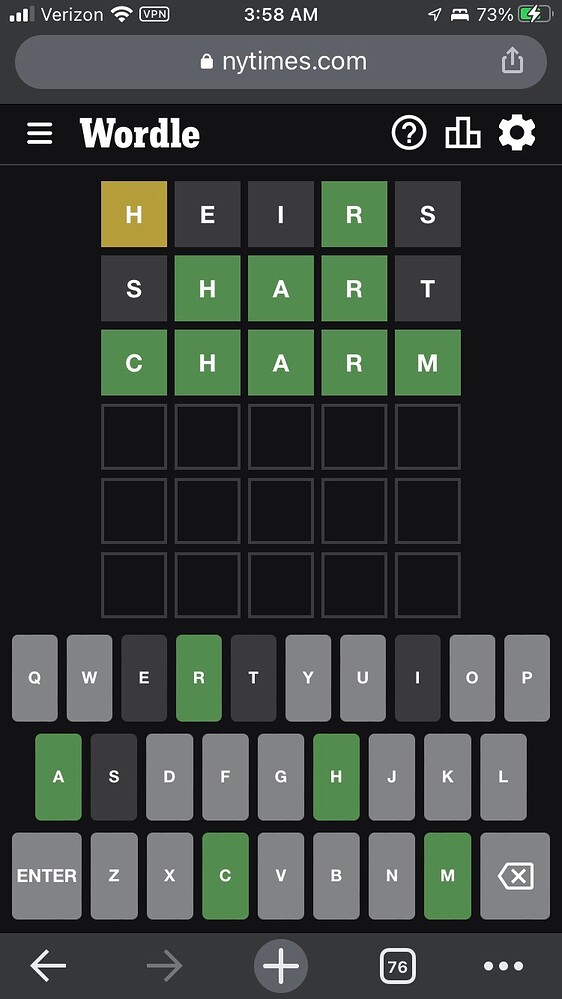 I use the same starting word each time because it has 2 vowels and 2 of the more common consonants, SPARE. I have noticed Word Hurdle is more difficult than Wordle though!
Same here. I always use the same starting word … until the one time that was the word lol … now I use a different starting word

Wordle 465 6/6




































Word Hurdle 504 4/6






























Phrazle 324: 4/6




































Wordle 468 4/6




















Word Hurdle 512 3/6 #wordhurdle



















Phrazle 330: 4/6