@DocPixel That's something to consider - what color would you think, and would it overlay our graphics of the pancakes, etc? We are all in agreement over yellow.
As @Mr-B pointed out:
We've now got two designs we need to decide between. Anything can be modified/moved around. The main items of question are:
Font - Western or Myriad - We are an old west town, a chuckwagon dinner theater, and also a bus tour company. The whole place is western, so do we go with a western font on billboards to match that, or have an easier to read font?

Layout - One picture, two, tripadvisor, etc? The first one follows the simplistic theme of the yellow pancakes with minimal words. The second one has more graphics and info, and the western font.
On subsequent billboards, going forward, we could have one that simply says "Check us out on TripAdvisor" with our name, once again following that same pattern/layout as the others. This way, we wouldn't have to clutter up one billboard with everything, and spread it out over several.
Here's what we have: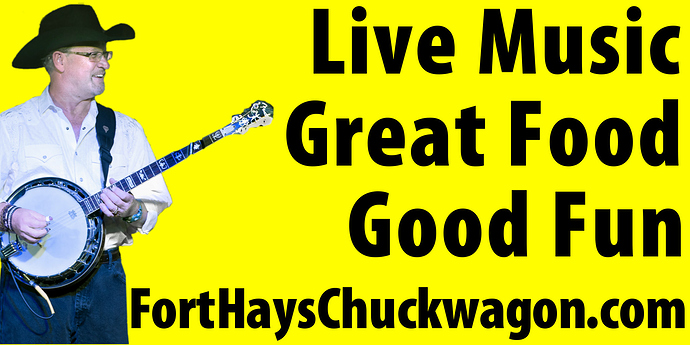 I am extremely impressed with the very knowledgeable feedback. Thank you so much to everyone for all the professional and insightful comments.