Thanks RKK. Well, can't get worse than '21 (numerically it can).
Happy New Year everyone!
I sure hope it's going to be better … so far the 20's have sucked! LOLOL

Happy New Year, gang!
What is everyone doing tonight?
My wife and I are not big crowd NYE party people (even before COVID), so we'll just hang out at home and enjoy a few adult beverages. Nothing too exciting.
I haven't gone out for New Years in well over a decade. In fact a few years I've fallen asleep before midnight LOL

So, tonight will consist of some snacky type foods, a few sips of Moscato and comfy PJ's. Hopefully I'll find a good movie we can watch

Get drunk. Go to bed early.
It's a good plan.
When I was in college, New Year's parties were a blast. As I got older, I kept going to them, but I realized they were much less fun at some point. One year, as we were getting ready to head out, Mrs. B and I looked at each other and asked, "Are you looking forward to this." We both said, "no," ended up staying home, and haven't gone to another since.
This year and last — in the age of covid — there's no chance of me squeezing myself into a crowded party with all the doors and windows closed in the middle of the winter.
Drinking by oneself is my personal preference. Best conversation I ever had.
We'll have the immediate family at our house—4 kids, 16-40 yrs old, one son-in-law, 2 grandkids—for food, drinks, games, etc. It'll be noisy and a bit chaotic at times, but it's one of the very few times I enjoy that.
Happy New Year, everyone.
Sounds like everyone is going to have a good night

I'm already feeling the need for a nap or I'm never going to make it until midnight.


It's 60 degrees and sunny, here. I'm getting ready to head out for my last bike ride of the year. Gotta work off the one jug of egg nog Mrs. Steve O buys me every year. So dang good, but so many calories. Anyway, after today's ride, I'll be north of 5,300 miles for 2021. I'm pretty happy with that. Tomorrow starts the goal of beating that total for 2022.
Usually New Year is a really fun around here. Obviously, with new Covid restrictions, things will be a little more sedate this year. Six to a table and table service only in pubs. We'll all have taken tests beforehand and we've all been tripple-jabbed. Makes sense and I am sure a level of silliness and giggles will still ensue.
However you are spending it, I hope it's fun and/or peaceful and that it brings in a much better year than the last two have been.
Happy New Year to all.
I was looking at the weather maps, and the entire middle of the country looks unusually warm. Here, in Utah, it's been snowing like crazy. We got a break in the snow this morning. Here's a shot from our backyard.
Add the ten inches we just got to the snow from the other day and last week, and it's really starting to pile up. I just might need to dig out my snowshoes and head up one of the canyons. I suspect there are eight or nine feet of the powdery stuff up there.
Enjoy that bike ride, it just might be the last one for a few weeks.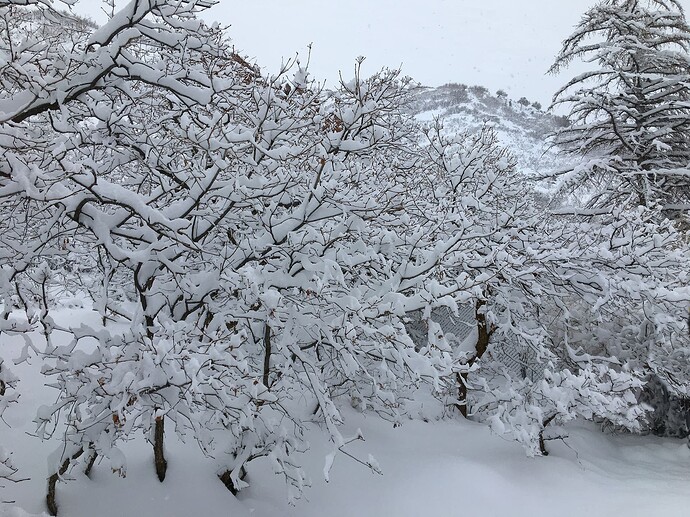 That's for sure. I'm really hoping this latest Omicron surge will burn itself out in a hurry and things will get back to some semblance of normal by spring. I'm actually cautiously optimistic about it.
Have fun on the night out, and be safe.
Way to go Steve! That's a lot of miles!
Loving that snowy picture

It's fairly mild here. The one snow storm we had is all but gone and it's been raining on and off. They say we are expected to see white stuff on Sunday. So far they have been kinda wrong

Sorry for the braggy post, but I ended up with 5,310 miles and 139,892 feet climbed for 2021. Goal for 2022: 5,311 miles.
Well done!


Had an awesome time, went to a mates BBQ

, lots of singing and dancing and too much drinking

!! Am paying for it today though!
Eeek… someone from the future!