Hej there,
First time asking for feedback here for a logo design, so bare with me if my english translation to explaining what what is isnt the best

JAN DIETVORST MEMORIAL
It is a competition held by the athletics club I also train at and I take care of their visual communication, known as SPADO. Jan Dietvorst is the name of our beloved late trainer that was mostly known for his hurdle trainings. After his passing a new compition rose up with all the components of the sport he gave training for.
What was ask for:
The logo of SPADO is red en blue and so this is wanted to be incorperated in the logo design.


1 or more components of the competition shown

Easy to use for Social media (means in a circle or something like that), wich I personally didnt put 1st as what was most important.
Primary I chose to go with the hurdles, because it was he was most known for
These 3 design are what I have send off to the organisation. So therefore I would love some feedback on all 3 of them. It's the first they see.
I know a lot of people in de graphic industry politely pass on color gradients but I feel like sometimes it can feel like a little extra pop wihthout having extra stuff added to your logo. Thats why I included it. Maybe there is a way I can use it better in these cases?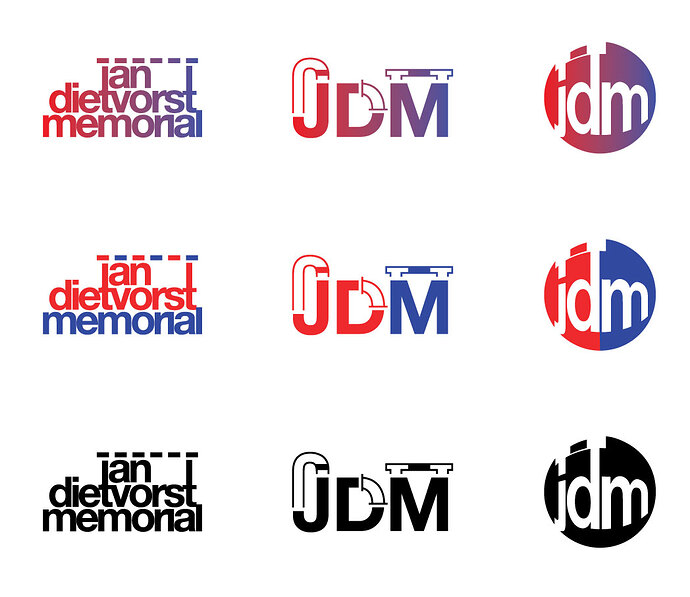 The first design:
A few letters of his name become the hurdle to keep it simple and clear. To me, its my favorite because it feels timeless. I do know that some people will not reconize whats going on, but I also asked myself the question: Is that needed for outside the Athletics world? I also see now, that the RI in memorial should be a little bit more spaced as it can be viewed as an N.

The second design
Are the "initials" of the name. Fused together with the 400 meters, hammerthrow area and the hurdle. I myself are not the biggest fan of it, felt like I needed to show them something more then 1 element of the competition.

The third design
Came out of the first one, but focused on being compact and therefor "more" usable for social media. As I think a client would look at it. Feels more directed to youth.
It's a time ago I was able to fully design a logo and such for real so all the tips are welcome

I also have to start designen a logo for the National Championsships Junior 2023 this month, so can't wait

Feels goodddd…