I am making a cover for a naughty puzzle book. The naughty is more wink wink innuendo rather than anything explicitly erotic.
Here are covers of popular existing books: link (Contains playfully suggestive drawings).
Here is my attempt so far (Click to make bigger):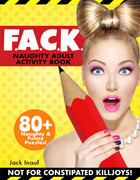 I think it almost works but I feel the balance is off, but I can't put my finger on it.
I've tried some alternates but they feel off too: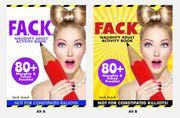 Any ideas? Thanks!
(Also, the title is actually spelt F.U. instead of F.A, I've just changed it here to avoid offending any one on this forum who might not be expecting such words!).