Blue isn't really a fall color. Winter maybe, as in my toes, but not fall.
I have a small stack of chips pulled from jobs over…oh…the last 6 weeks or so. It's actually kind of funny how close the recent-past trending colors represent this proposed future trend.
That was my thinking too

I know they are listing it as Fall/Winter but still … not a Fall color in my mind

They must have a backstock of blue pigment they need to sell
I dunno, there are some wicked blue skies in the fall & winter. And it's a Hannukah color.
My knowledge on Hannukah is pretty lacking. I always thought of it as a Winter Holiday. It does indeed fall before Winter officially begins. I never knew that… so I learned something new today

And yes, that would be a perfect color

My Mom would also love it as that was her favorite color to decorate the Christmas tree in. Blue and Silver and we always had tiny blue lights engulfing the house

By itself, that blue isn't very fall-like, but as sort of a secondary color, like @Designia said, there are lots of blue skies in the fall creating a contrasting backdrop for all the usual reds, browns and oranges. Really, though, I guess a blue sky backdrop is true for every season.
I know the official starts of the seasons come around the 20th or 21st of the months, but the weather, the leaves, the snow, etc., start around the first of the month. From that way of looking at things, winter begins at the first of December.
When did Pantone start expanding their promotions out to designating trending seasonal colors? All I've known about is their color of the year. I wonder who picks these things and if they have any data supporting their contentions that these colors are trending. I'm suspecting they're just making it up to get publicity.
Can't wait to see what's the colour for Wednesdays.
I wonder if Wednesday noon's color will be slightly different from 1pm.
Only a.m. and p.m. colours.
I'm not crazy about these trending colors. There are a few that I like, but there are a lot of fleshy colors that I don't foresee myself using.
As someone who works mostly in print, I find it interesting that (on these samples at least), CMYK values are not included. Sign of the times I suppose.
This Pantone Color of the Year thing is all Textile/Fashion and web-catalog based. Not CMYK, not print.
I suspect it's part of the reason I occasionally get print jobs with Textile colors applied, and although that is very difficult to do, somehow, someone, at least once a year, manages to do it. The textile colors do not convert to Pantone Spot colors either. They are their own little world.
You cannot fathom how much I absolutely HATE Pantone this week. I've been on customer support 3 times in 4 days (also with Adobe, but that's a whole different level of hate.)
When does the 2021 Color of the Year get announced?
They announce at the end of the year for the following year. Then they seem to put out little blurbs for color trends for Spring/Summer and Fall/Winter right in line with the big Fashion weeks

So be on the look out come December for the 2021 color.
I don't follow any of that stuff … I just see pretty colors …
sometimes

Yup, it's all fashion based as Kitty said.
That's why the colors are always Textile swatches. I don't even own one of those books. TOO expensive. When I do get jobs using the textile library, there is a bit of back and forth on that to get the colors as intended. Sometimes it comes down to asking the designer to go to their nearest hardware store that sells paint and pick up some paint swatches that we then try to spec into the software. Sometimes though…



Pantone Colour of 26th September 2020 is 2655c. Literally all posters are of this colour. I am a believer.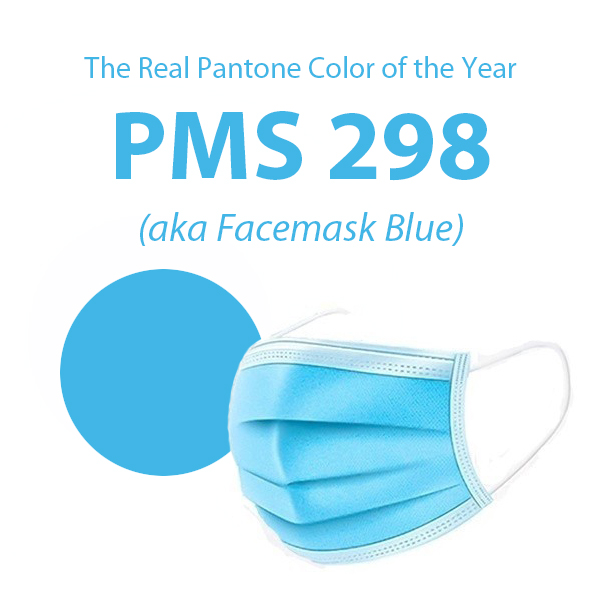 lmaoooo … I think you nailed it!