Curious to see what design podcasts are popular these days


Thanks!
Radiolab
No Such Thing As A Fish
Fortunately … with Fi and Jane
The Life Scientific
The Curious Cases of Rutherford & Fry
The Allusionist
Switched on Pop
Desert Island Discs
+
Started listening to Design cuts found them from here
Thank you for the great info!!! Much appreciated.
Much appreciated Brandon Creative

Will check it out.
Indesign Secrets - to stay on top of software changes
Design Domination - to get ideas on business practices
Thank you Mojo…very helpful

As for design-related podcasts, I listen to Logo Geek, Deeply Graphic Design, Design Domination, and The Resourceful Designer. I also listen to a few freelance podcasts, like The Freelance Podcast, Being Freelance,The Side Hustle Project and a few others.
In addition, I listen to podcasts related to current events, science, psychology, business, etc., like Sam Harris, Adam Grant's WorkingLife, TED interviews, etc.
I've been trying to walk/run/hike about 5 miles per day several times each week, which provides enough time to listen to them. I can't listen to anything while I'm working.
The Support Squad - Sharon Nissen
Dream Big My Friend - Frances Vidakovic
The Great Girlfriends Show
Manifestation Babe - Kathrin Zenkina
Lightworkers Lounge - Stephanie Powers
Thank you Amit for your suggests…I will check them out. Cheers!
Thanks Just-B. . . I too am a big fan of The Resourceful Designer…appreciate you taking the time to share.
Hi Kingteni. We have a forum rule about no advertising. You posted a previous podcast a few weeks ago that we removed for that reason. I'll let this one stay, but please don't advertise your podcast here. If we allowed advertising, the forum would be flooded with it. Thanks.
The Dollop
The Rewatchables
Haunted AF
My Dad Wrote a Porno
How Did This Get Made
And lots of NPR stuff.
And absolutely nothing work related

This needs a little back story to fill in.
I'm a fan of architecture. Years ago while studying the Sowden House, designed by Lloyd Wright (Frank Lloyd Wright's son), I learned of a possible connection between the house and the unsolved Black Dahlia murder that took place in Los Angeles in 1947.
One of the prime suspects was a doctor named George Hodel who owned the Sowden House in the 40s. If a fraction of the allegations that have been thrown at Hodel are true, he was one disturbed individual.
His granddaughters recorded a podcast about their family called The Root of Evil that details their sordid family history with tie-ins to the house and the surrealist art movement. It's an interesting true crime type of podcast, but, given the nature of the sexual abuse that was prevalent in their family and the nature of the murder, the podcast might not be for everyone.
It's only an 8 or 9 episode podcast, so it's not a big commitment to work through it, but you do have to pay attention while listening or you might get lost in the details of who all of the people are.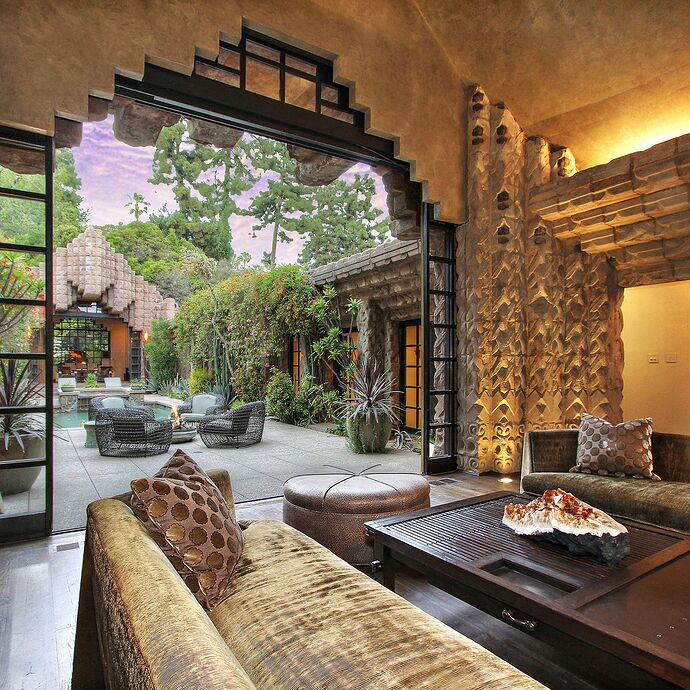 That's fascinating about the Snowden house, I didn't realize it was a famous location, I only recognized that place from this movie:
I tried listening to maybe 3 or 4 "design" podcasts a while back, and would classify the experiences under either drudgery or that phony perky quality some people project where ordinary thought its "genius" and some font is "amazing". Bleh.
Before Covid, I was commuting most days to my primary client's facility 70 miles from home, and loved having that time for podcasts, but for a solid year now I've been working 100% remotely and there's much less time. Now, it's much more fragmented, and down to bits of maybe 4:
Very Bad Wizards
Penn's Sunday School
Clear & Vivid w/Alan Alda
Box of Neutrals
That looks like a great movie. I will check it out. There are some scenes that were definitely filmed at the Sowden house. The Ennis house designed by Frank Lloyd Wright, also in Los Angeles, is also a well known filming location. South Park even used it in one of their episodes.
alright, it has been noted.
Not "design" podcasts, but I listen to:
"how to draw comics" and
"writing excuses".
The first has some neat discussions on creativity-related topics. Bonus if you like comics.
The second is for writers, which I'm into, but the discussion is always clean-sounding and pleasant and creative. It gives some interesting perspectives on storytelling, and a few about being on a creative business.