56f here right now, early Sunday morning. To warm for the time of year.
I'd write about my weather, but it's New England. It was a downpour of rain about 10 minutes ago, now the sun is peaking out. Temp is dropping though. The remains of that hurricane blowing through brought all that humid warm air and the whole past week has been a true Indian Summer. Glad for it too. Got the rest of the yard bolted down for winter, except for the leaves on the back lawn. Maybe today. Maybe.
We got our first snow overnight. It's not much in the big scheme of things … but enough to get those plows out - scraping up the blacktop

We got that same snow. The plows didn't even bother. Turned to rain about 530am. Really weird there is almost a 20°F temp difference between home and work. It's 54° here at work and steady rain.
Buffalo had 6 feet of the white stuff dumped on it on less than a day from that lake effect storm.

This is not my pic … it's from Nick's Seasonal Décor on FB. But, a picture is worth a 1000 words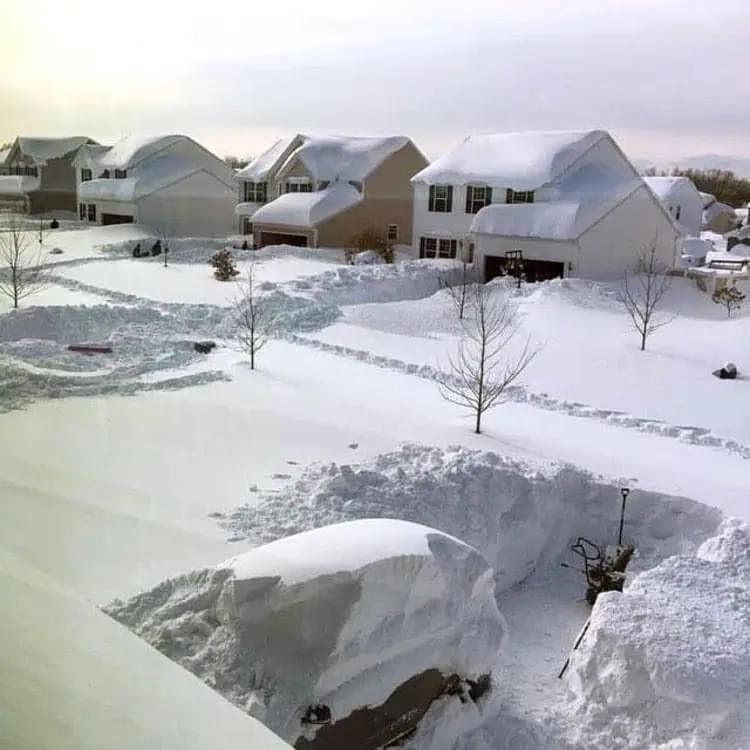 We are about 3 hours away and got a slight dusting.
I was wondering if you would get any of that snow.
If I remember correctly, Buffalo has these kinds of huge lake effect snowstorms every few years. I'd need to seriously consider that before moving there. I'm not a big fan of snow. I'm not even sure how one would dig out from six feet of the stuff.
Everyone is pretty well equipped for it. It's a pain for a couple days. But, DOT gets right to it with the main roads and the towns are well set up to take care of what DOT doesn't. And everyone has a snowblower - industrial strength.

People are good about looking out for neighbors who can't or don't have any way to get a path made.
Seeing something like this over the course of a week is a sight to behold. Literal mountains of snow piled up in parking lots.

As for here … we just get regular snowstorms for the most part. We can get a lot in a short time … but nothing like lake effect. All you can do is hunker down and wait until it's over.