I am making a cover for a kids word search book.
Here are the best selling kids word search books on Amazon: (Click to make bigger)


I think they suffer from being too busy.
Here are some designs I have come up with. They follow the designs I did here for a Women's WordSearch book, so they feel like part of the same brand.
Design A (Click to make bigger)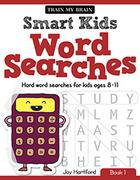 Design B (Click to make bigger)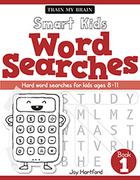 They look OK, but I feel something is missing, that I can't put my finger on so I would like a second pair of eyes! In particular, I am not sure if they work better with a color character or a B&W character.
They are going to be a series of 5 books so the character will change on each one. On other books, the character is a book, beaker, globe etc in the same style.
They will be sold on Amazon, where people only see the smaller thumbnails first before they click to see the full image, so I want the thumbnail to stand out. The text in the subtitle doesn't matter so much because it will be on the product page.